Sponsors are Super-Superheroes that are compelled to exceed the quarterly membership commitment in cash or in-kind. These exceptional individuals/entities fall into two categories:
Power Sponsors donate CA$H to our participant charities (not to us);
In-Kind Sponsors donate services to 100men.ky (not to the charities).
Note: 100men.ky cannot accept cash donations - we don't even have a bank account.
If you or your business wish to make a more profound impact to this non-organization please contact us at sponsor@100men.ky.
Power Sponsor
We are pleased to announce the addition of a Power Sponsor at each event! Also known as an Event Sponsor, these Super-Superheroes have felt compelled to exceed the quarterly donation of a single member by a power of 20. Meaning, these exceptional individuals/entities have committed to donating TWO THOUSAND dollars at the next event.
Their 'Power' donation will be divided between the two NON-recipient charities. That way, the recipient charity would still get 100% of members donations, and the other two would split the 'Power' donation; $1,000 each. Amazing!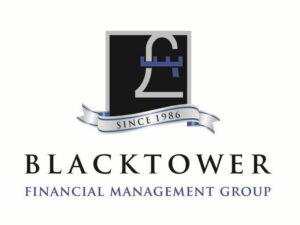 The Blacktower Financial Management Group was formed in 1986 to provide independent wealth management advice and a bespoke service for both individual and corporate clients around the world.
The world of investment and financial planning services is complex, even if you are financially aware, and finding the right products is time consuming. That's why we are here. With our knowledge and expertise, we can save you time, money and bring you peace of mind.
In-Kind Sponsors
We may have no revenue, no bank account, no treasurer and no budget, but we do have some needs. 100 Men Who Give A Damn! - Cayman would not be possible without the good nature of our in-kind sponsors.
Note: if your company has services to donate in-kind to any charity, please contact the charity directly - we're happy to assist.
The following in-kind sponsors have helped 100 Men Who Give A Damn! - Cayman to get where it is: be glad they give a damn, and please support them.